Pink Ribbon Evening 2014, Hans

The challenge of breast cancer
April 09,2014, 12.54 PM IST | Askarijaffer
Ushalakshmi Breast Cancer Foundation (UBF) organised the Pink Ribbon Evening 2014 to commemorate seven positively eventful years serving the community in Andhra Pradesh and beyond. A panel discussion on 'Breast Cancer-Challenges and Choices' was held during the event.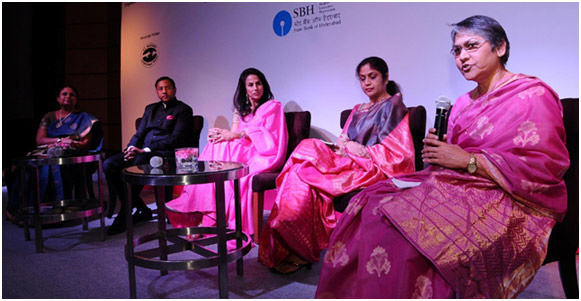 CEO and Director of UBF, Dr P Raghuram said, "It is important for Indian women to undergo frequent testing for breast cancer, at least once a year. In Western countries, breast cancer among women is common between 60 and 70 years. However, in India, for reasons unknown, the age group is 40 to 50 years. That's the reason why every woman above 40 years should undergo mammogram test once a year."
Dr Raghu Ram highlighted the five challenges that he encountered when he returned to practice the art and science of breast surgery in India.
From free standing purpose built and comprehensive breast health Centre at KIMS to playing a key role in formation of the Association of Breast Surgeons of India, the challenges relating to practicing ethically, the huge challenge of dealing with the 'Angelina Jolie effect' - the scare that she has created amongst the 'worried lot' (where as only 5% of the affected gain in hereditarily) and finally the challenges and evidence based choices available to patients when faced with breast cancer were illustrated eloquently by him through a power point presentation.
Dr Evita Fernandez, CEO of Fernandez Hospitals, was the moderator for the panel discussion. Classical dancer DrAnanda Shankar Jayant and associate professor in microbiology, DrAnuradha from Warangal who conquered breast cancer successfully spoke about their experience and how they came up as cancer conquerors not as a survivor. Once detected, we should not feel that their life has ended. In fact, women should have the courage to take the ailment head-on and treat it as one page of their life and should ride over it, they said. Shobhaa De noted writer, who participated in the discussion, said, "Women in India keep their family ahead and neglect their health status. Women feel that they should sacrifice for the family. But, women do not realise that their health is linked to the happiness of the entire family."
She also said the women should consider choices clearly before embarking on treatment for breast cancer. She also stressed the urgent need for adequate counselling by treating doctors so that women can make informed choices relating to their breast cancer treatment.